When hospitals and other health practices began adopting electronic health records (EHRs), the need for data management became apparent. Technology that supports big data and its organization are useful. However, having all this information begs the question: How can health data be used to improve the quality and efficiency of care?
Health informatics blends computer science to optimize the databases and processes used by health organizations with health care and information technology. According to the American Medical Informatics Association (AMIA), informatics is "the science of how to use data, information and knowledge to improve human health and the delivery of health care services."
The health informatics field spearheads this effort.
Studying health informatics may equip you with the knowledge and tools to effectively interpret health data. Graduates with a master's in health informatics can pursue careers as clinical analysts, medical and health services managers, medical records and health information technicians, medical coding specialists and more.
A master's in health informatics focuses on improving health management through the integration of health information, data science and computer science. Health care organizations today have influxes of data. They're faced with the challenge of integrating it and extracting meaningful insights from it. Because of this, "the need for health informatics has never been greater," the American Health Information Management Association (AHIMA) reports.
A master's in health informatics equips students with the tools and knowledge to examine and leverage data to improve quality of care and decrease health costs. It typically takes about two years to earn a master's degree in health informatics, some online health informatics master's degrees may be completed in less time. Applied statistics, data visualizations, and sequencing analysis are some of the course topics you can expect.
Studying health informatics is a great option for those intrigued by the convergence of health and data science, as this is a key theme of health informatics programs. For example, you'll examine the power of health in data science to better EHR or electronic medical record (EMR) management, improve the use of hospital beds and resources, and reduce administrative costs. Studying health and data science can also prepare you to examine health concerns on a local, regional, national and international level.
The requirements for a master's in health informatics online degree vary by program, but a combination of factors regarding your educational and professional background may be considered. Below are common admission requirements:
Earning a health informatics master's degree provides you with many health management and data analytics career options.
Health information management (HIM) directors oversee the information management of health care organizations, from hospitals to care facilities. They are knowledgeable about health management and well-versed in the business aspects of health care, namely managing clinical and financial data. HIM directors usually manage their own departments and monitor employee performance.
According to the AMIA Task Force Report on CCIO Knowledge, Education, and Skill Set Requirements, the role of chief clinical informatics officers (CCIOs) is emerging and has yet to be well defined. Generally, CCIOs are responsible for the IT operations of health care organizations. Their duties differ based on the job, but chief clinical informatics officers may implement software, maintain IT systems, and look for ways that medical information can improve care. They also train providers how to use medical software.
Medical and health services managers have an array of job duties focused on improving the efficiency and quality of health services. They establish department goals, manage finances, and collaborate with nurses, physicians, doctors, and technicians—depending on where they work. A master's in health informatics can help someone become a medical and health services manager with data-focused objectives. The median salary for medical and health services managers was $104,280 in 2020, the Bureau of Labor Statistics (BLS) reports.
According to the Department of Labor, clinical data managers "apply knowledge of health care and database management to analyze clinical data, and to identify and report trends." They organize data, prepare it for analysis, communicate data insights and develop data management processes. Individuals with a master's in health informatics degree are well trained for careers in clinical data and informatics.
Medical records and health information technicians handle health information data, ensuring its accuracy and timeliness. They constantly organize clinical data and assess care quality by monitoring patient outcomes. The BLS says the 2020 median salary for medical records and health information technicians was $45,240. It also notes that employment of these professionals is expected to increase 9% from 2020-2030, which is much faster than average.
Medical secretaries prepare reports and materials for physicians or medical scientists, the BLS reports. They must understand medical procedures, terminology and codes, records, and more. Medical secretaries can also manage administrative and clerical tasks for a health care organization.
A master's degree in health informatics offers a diverse curriculum that blends biomedical science, computer science, and information technology. Most programs begin with an introduction to health informatics and terminology, but the exact curriculum varies per program. Typical course topics may include:
Course topics will be slightly different if your program has a specialized focus. Some programs, for example, approach health informatics from a business administration, nursing, or public health angle. Others focus on a particular aspect of health informatics—such as biostatistics or clinical data.
Many programs require a capstone project. This usually involves applying your class knowledge to real-life examples or researching a specific health informatics topic. Some programs may also require students to complete an internship in a relevant field.
Health informatics is used to improve EMR data management, disease detection, telemedicine and more. Here are some examples of recent developments involving health informatics:
Ultimately, these data-focused efforts aim to improve the care institutions provide while saving time and money. If you're interested in digging deeper into health informatics developments, check out our coverage of data science opportunities in the biotech and health care industries.
Health data visualization refers to the process of presenting health data in a clear and visually engaging format. Data visualization can be useful to identify cost-saving and care improvement opportunities in the health care industry.
The Centers for Disease Control and Prevention's (CDC) National Center for Health Statistics (NCHS) has a data visualization gallery with mortality, natality and provisional data dashboards. Here are some of its examples of health data visualizations:
Health informatics professionals help gather, organize, and present the information used in data visualizations. If you're intrigued by health data visualizations, check out the website of Martin Krzywinski for bioinformatics visualizations.
The coronavirus changed people's everyday lives and has shocked health care systems around the world. The timely dissemination of information became essential to keeping the public updated about the pandemic. Clearly presenting COVID-19 data related to testing, cases and deaths has been one way of keeping people informed. It's also aided health care decision-making related to testing and stay-at-home orders. Coronavirus data visualizations have helped this effort.
Bing's COVID-19 Tracker is a great example of a data visualization tool that simplifies and clearly presents health data. The tracker enables users to view COVID-19 case data on global, national, state and county levels.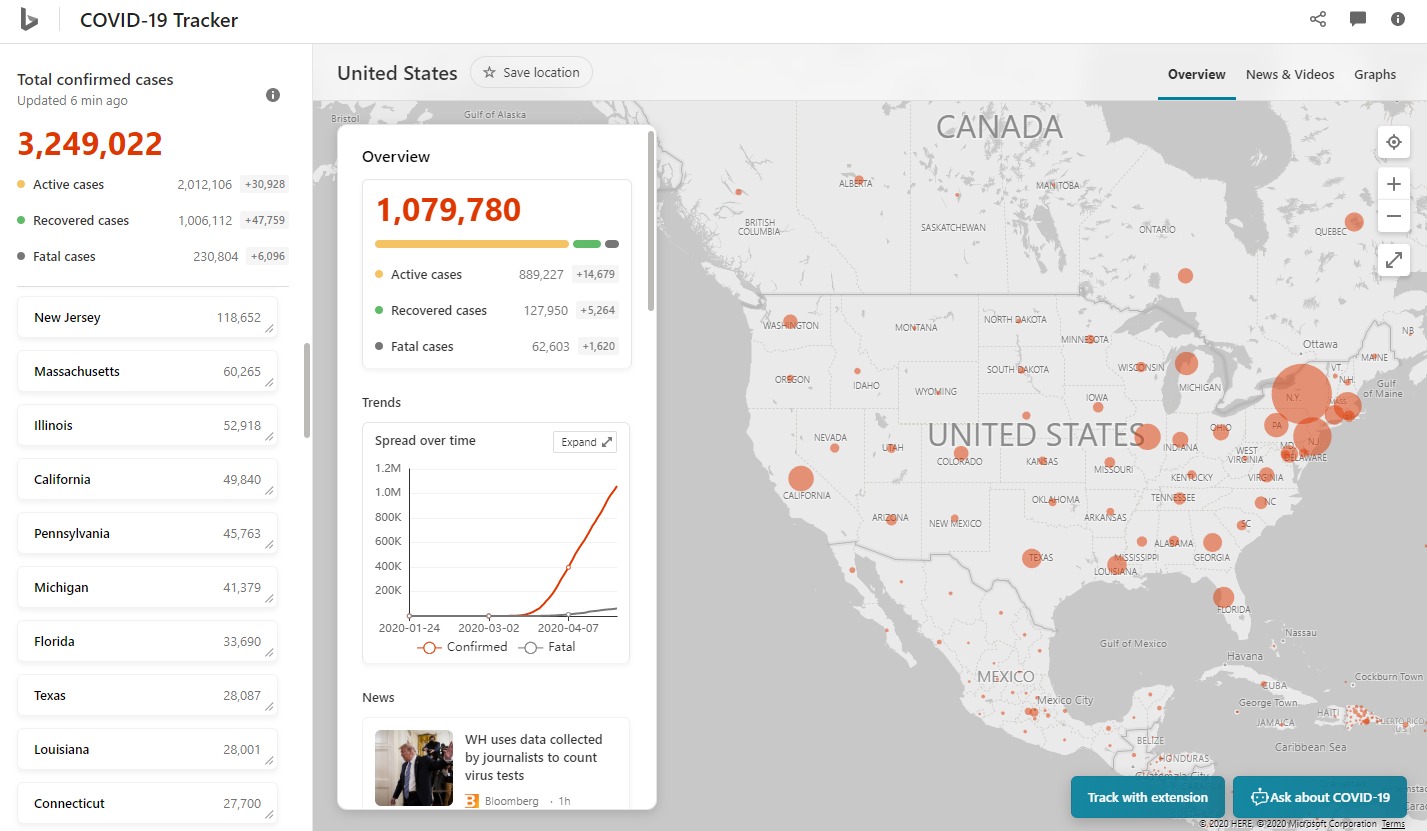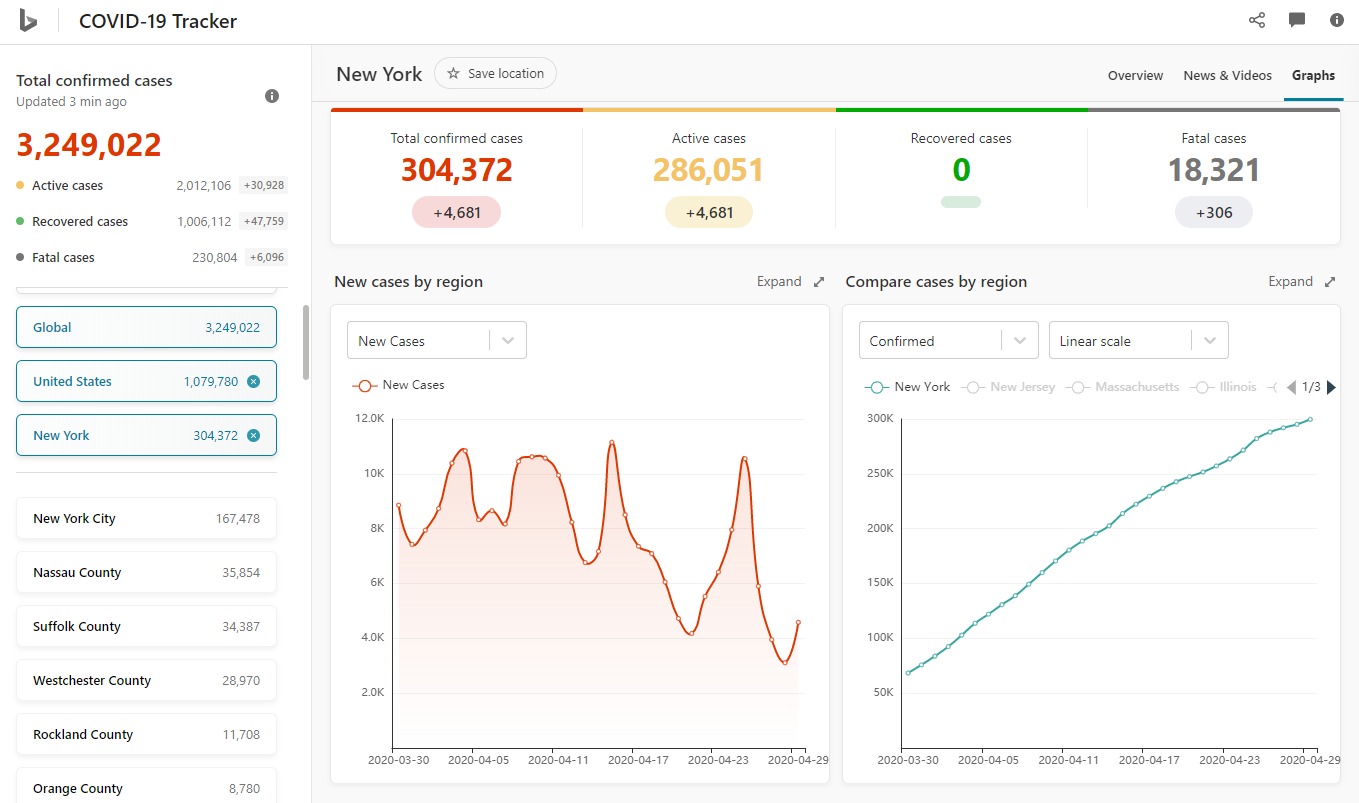 The number of active, recovered, and fatal cases in a given area are clearly displayed in Bing's COVID-19 Tracker. Additionally, you can see a graph of the new cases by region.
Another example of a coronavirus data visualization is the COVID-19 Dashboard by the Center for Systems Science and Engineering (CSSE) at Johns Hopkins University (JHU). A notable feature of this visualization is its display of incidence, case-fatality, testing, and hospitalization rates in the world map view. JHU also created coronavirus data visualizations to show mortality rates across different countries. Understanding mortality rates in various parts of the world can shed light on how demographics, available testing, and health care system features affected the spread of the coronavirus.
While the impact of the coronavirus is still playing out, it's clear that data visualization can help improve health care decisions. Providing local, national and global leaders with timely and accurate data related to COVID-19 cases has been essential to their decision-making. Over time, many insights about the intersection of data science and coronavirus will be unpacked.
There are a number of factors to consider when choosing the best health informatics master's degree program for you.
One thing to remember is why you want to study health informatics and what you hope to gain by the end of your program. For example, your goal may be to expand your knowledge about the health informatics field, increase your earning potential, expand your career options, or heighten your knowledge about a specific area of health informatics. Keep your goal in mind as you research programs.
The best program for you may also depend on whether or not you'll be working while you go to school, how much time you can dedicate to your studies, how soon you want to complete your master's degree, and how much you want to spend. Here are some program factors to consider:
Cost: You know that earning your master's degree in health informatics is an investment, but you want to make sure you can afford it. How much can you spend on your degree program? Check program pricing and see if payment plans, financial aid and scholarships are available.
We found 54 universities in our directory offering Health Informatics programs.
If you represent a university and would like to contact us about editing any of our listings, or adding new programs, please send an email to info@mastersindatascience.org.
Arizona | California | Delaware | District of Columbia | Florida | Idaho | Illinois | Iowa | Kentucky | Louisiana | Maine | Massachusetts | Michigan | Mississippi | Missouri | Nebraska | New Hampshire | New York | North Carolina | Ohio | Oklahoma | Oregon | Pennsylvania | Rhode Island | South Carolina | South Dakota | Tennessee | Texas | Utah | Vermont | Washington