Why You Need A Data Science Mentor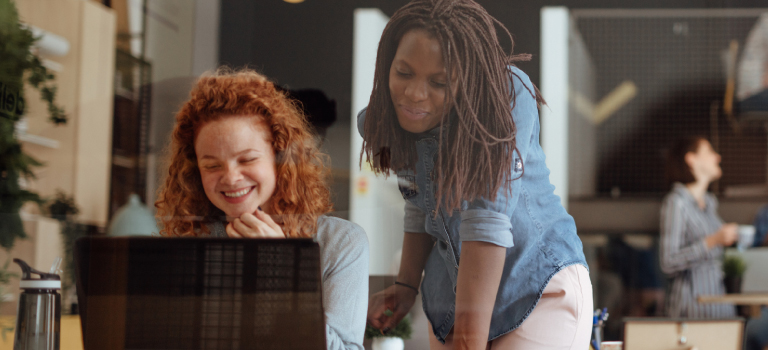 About three out of four people think that having a mentor is an important part of professional development, according to a 2018 survey from Olivet Nazarene University. But the same study found only 37% of people have that guidance.
As you navigate your career, try and learn new skills, change industries, or start a master's in data science in 2020, having an experienced professional act as a leader and support system can be invaluable.
Even seasoned professionals can gain from the mentorship of somebody more experienced. And the act of mentoring someone can expand your own network and cause you to reflect on your skills and experience.
What can individuals entering the data science industry do to find a valuable mentor, and what can they hope to gain from the experience?
What is Mentorship in Data Science?
Mentorship covers a range of areas – career path guidance, skill development, improving executive presence, and more. For data scientists, it can mean getting a chance to experiment on new projects. Or perhaps learning how to navigate a male-dominated field. Other aspiring professionals could be looking for guidance on which of the many data science paths to follow.
Once you set clear expectations about what you aim to gain from a mentor, you can begin looking for the right fit.
A mentor can be:
An adviser. Someone who provides guidance as you advance in your career based on their professional experience.
A critic. Someone who provides constructive, actionable feedback on your work.
A sounding board. Someone to bounce ideas off or to brainstorm with on new ideas.
A resource. Someone who gives you access to new tools, education, or people through their network.
A perspective. Someone who can take a fresh look at your work and give an unbiased opinion.
A mentor is not:
A supervisor. Someone responsible for managing your work, keeping track of your progress or facilitating HR requests.
A tutor. Someone who helps you with homework, studying for exams, or guiding you through new lessons.
A therapist. Someone who can help you work through the emotional aspects of your work and relationships.
A job coach. Someone whose role is to help you get a new job by editing your resume or preparing for an interview.
Just as there are a variety of data science responsibilities, a data science mentorship will differ depending on the people involved. For example, a data analyst who is responsible for creating dashboards and monitoring Key Performance Indicators could seek a mentor with a strong design background to help them better understand data visualization.
What to Look for in a Data Science Mentor?
You've decided you want a mentor. Now what? What kind of person do you look for? At the very least, you want someone who has shown interest in your career and believes they can contribute to your professional development.
While you network and build relationships, carefully evaluate your goals and needs as much as you consider theirs. Ask yourself and potential mentors some questions to determine if this mentorship is a good fit.
Goals
For you:
What do I need out of this relationship?
What do I want to learn from this person?
What can I give them as a mentee?
For a potential mentor:
What do you expect from me as a mentee?
What do you hope to gain from being a mentor?
What do you want to share about your professional experience?
Time
For you:
How much time do I have to devote to this?
Do I need a short- or long-term mentor?
Is my need for a mentor immediate or time sensitive?
For a potential mentor:
How much time can you reasonably commit to working with me?
Are you available to help me on time-sensitive issues?
Do you foresee yourself remaining available on a long-term basis?
Skills and Knowledge
For you:
What do I already know and not know?
What do I need to know to progress in my career?
What is stopping me from learning those skills on my own?
For a potential mentor:
What is your background in this field?
Do you feel comfortable guiding me in X?
What skill or leadership areas do you not feel prepared to mentor me in?
Compatibility
For you:
What is my communication style?
What am I most passionate about in this field?
What are my most successful professional relationships like?
For a potential mentor:
What is your feedback style?
Do you have a mentor and what made that relationship most effective?
What do you spend most of your time on in your work?
What is the Best Way to Find a Mentor?
There's no prescribed path to finding the perfect mentor. Whatever your situation, there are a few ways you can start looking for a new perspective. Tap into a few different networks to find the best fit.
At work
Check with your manager or human resources department to learn what kind of mentorship programs may already be available. Some companies pair veteran employees with new hires, create mentoring groups like Lean In circles, or provide career, one-on-one mentoring.
Using formal programs
See if professional organizations in your industry have mentor matching programs. Additionally, some services offer paid memberships to find a mentor. Examples include Thinkful, SharpestMinds, and The National Mentoring Partnership.
Through a recommendation
Ask a colleague you trust, a friend in the industry, classmates, or anyone who may have a worthwhile connection for you. If the first recommendation isn't a good fit, ask that person if they can connect you with someone who has specific experience in your field.
At conferences and events
Use conferences and events to meet more people in the data science community and establish connections. Bring business cards and strike up conversations in between presentations, at organized gatherings, or at project nights. Check out local events through sites like Meetup where like-minded data science enthusiasts get together to present, work and share every week.
Virtually
If you're comfortable with long-distance mentorship, use the online data science community as a resource when looking for someone. Staying involved with data science organizations via listserv and Slack channels are great ways to find common ground and assistance. Or, participate in discussions with professionals you follow on Twitter or LinkedIn.
Wherever you begin seeking a mentor, remember some of these tips:
Don't hesitate.
Talk to people about their work and see what you can learn from them.
If you're cold-contacting someone, be specific in your ask.
Instead of "I admire your work, how can I get where you are?", ask about their process, show that you are familiar with their work, and include what you have to offer in the relationship.
Always carry business cards.
You never know when you'll want someone to remember your name and information.
Don't force a mentorship where there is no natural fit.
If it's not working out, feel empowered to explain it would be better for both of you if you found someone with more experience in a specific area or who is available at certain times. See if they can connect you with someone else