How to Get Into Data Science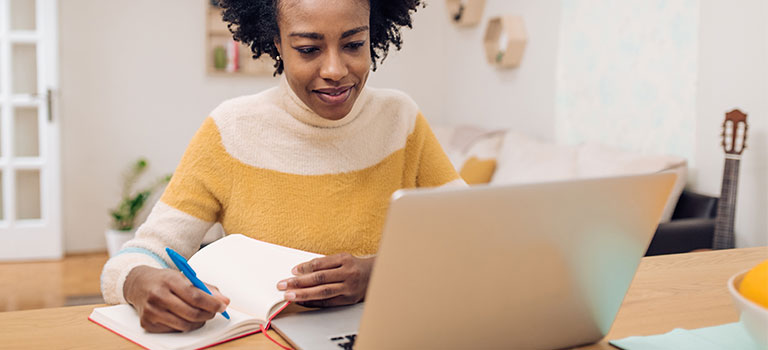 As a new graduate, one of your biggest obstacles may be landing your first job. With no experience, it can be tough to impress employers or prove you have a strong work ethic and the ability to tackle job duties responsibly and efficiently. Once you've completed your degree in data science, it's important to learn the best practices for applying for jobs in the field.
While you may not have experience at a job in the industry, there are ways to show you possess the skills and qualities that are needed in data science to excel with a company. By finding out what potential employers are looking for in job candidates and how to show you have what it takes to succeed, you may be more likely to snag a great job in data science quickly.
List of Entry-Level Data Science Jobs
Before you begin browsing for jobs in the data science field, identify entry-level positions you may be qualified for. Positions suited for those who just completed graduate school and have little to no work experience in data science include the following:
Junior data scientist: As an entry-level data scientist, you'll assist other scientists in building processes for computer systems. You may also help create or implement new software to meet company or data needs. Your annual salary depends on your location and job duties. If you can prove you have the skills and education that's required, you should be able to obtain a job as a junior data scientist.
Research associate: As an entry-level research scientist or associate, you'll assist lead researchers in compiling data, using systems to conduct experiments, and reporting your findings. To acquire a position as a research associate, you'll need to prove you have strong analytical skills and work ethic.
Associate systems analyst: An associate systems analyst is usually part of a team of analysts who monitor computer systems for functionality and efficiency. It may be easier to find a job as an associate systems analyst at a large company, as long as you have the skills and education required.
Background Requirements
While earning your data science degree online or in-person is an impressive accomplishment, it's also important to consider your background, skills and experiences. By highlighting your background and skills, you can stand out from other job applicants who have also earned their degrees.
Skills
Before an employer hires you, they want to know what skills you possess as well as other attributes that may be useful to the company. Some of the skills or traits a potential employer may be looking for include:
Good communication skills.
Experience with specific computer programs, such as Python or Tableau.
Analytical skills.
Ability to perform tasks with little supervision.
Problem-solving skills.
Data visualization abilities.
Advanced mathematics skills.
Read the job description for the data scientist job you're applying for. Consider the skills you possess and how they relate to the position and be sure to highlight these aspects of your experience.
Education
Education is an important component of getting a job in data science. Most positions as computer and information research scientists, which includes data scientists, require a master's degree. Some companies and work settings may consider you for a position with a bachelor's degree and some experience in a related field, such as mathematics or computer programming.
Experience
Entry-level jobs in data science may not require work experience. However, if you have already had a job in data science or a related field, be sure to highlight the skills and experience you gained while working to stand out from other applicants.
If you volunteered for data- or technology-related projects while in school, add them to your resume or cover letter. You should also include information on internships or other experiences that relate to the position you're applying for.
Tips on How to Get an Entry-Level Job in Data Science
Finishing your degree in data science is an important first step in the process of obtaining a job in the field. When you're ready to start working, there are a few simple steps that may help you get a job.
The Job Search
Conducting a thorough job search is crucial to finding a job that matches your interests, salary requirements and experience. To conduct a comprehensive job search, helpful steps are:
Carefully read job postings. Before applying for a job, review the job duties and company information to determine your interest.
Network. Getting to know people already in the data science industry is a great way to learn about new jobs before they're advertised.
Use multiple resources. Not all jobs are posted on online job boards, so it's important to look at potential employers' websites and ask people in your network about openings.
Preparing Your Applications
When applying to entry-level jobs, it's important to ensure your application and resume highlight the skills and experiences you have that relate directly to the position. Take a chance and apply to jobs you may be underqualified for. If the company didn't get a lot of qualified applicants, you may be in the running.
Companies that receive numerous applications may use Applicant Tracking Systems to weed out candidates who aren't qualified. Be sure your resume includes computer program names or skills that are listed as requirements for the position so you make it through the tracking system.
The Interview Process
When you attend a job interview, it's important to dress professionally. The interviewer may ask for a portfolio of your work. Provide an organized portfolio, even if it's projects you completed while in school or during an internship. If you don't have any job experience, focus on your skills, education and enthusiasm for learning.
If you have some experience with internships or volunteer work, highlight what you achieved while working. Focus on your work ethic, communication skills, and other traits that directly relate to the position to impress potential employers.