Exploring a Career With Numbers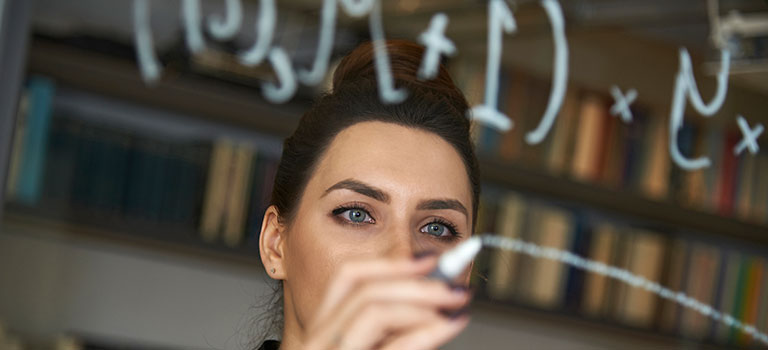 Selecting a career can be intimidating. Choosing a professional path requires committing to an educational track and gaining the skills to succeed and progress in your career.
A career decision can be especially challenging if you want to work with math. There are many professions where you can use math skills, as this article will illustrate. Having many choices can be positive, but it can also be confusing. The experiences and opportunities can be very different depending on whether you are an accountant, a math teacher, a data scientist or a marketing analyst.
You should find out more about each math-related profession to be sure it will fit your interests, technical and soft skills, and educational plans.
Is a Career in Numbers Right For You?
To start a career working with numbers, you need to be good at math. However, you do not necessarily need to have a deep love of mathematics. Most occupations that involve calculations and equations use math as a tool for performing other tasks, such as analyzing data or communicating information with other professionals.
Your passion could be problem-solving, finance, making predictions or using math to investigate new concepts and ideas.
You should note that most numbers-related careers are sedentary, working in an office at a desk. You typically use a computer or calculator in your work.
What characteristics do people in numbers careers have?
Attention to Detail: Math professionals, regardless of their area of specialization, need to pay attention to detail. Whether you become a data scientist or accountant, you will need to make exact calculations and be precise with equations, algorithms or other mathematical functions.
Analytical Mind: All math careers require analytical thinking. In professions such as data science, you need the analytical skills to define problems, plan projects that meet specific goals, and figure out how to apply what you learned to meet particular needs.
Strong Math Proficiency: In all mathematical careers, you need to be able to solve equations. Even if your job's focus is not specifically on solving equations, you need to be able to perform mathematical calculations.
Logical: Mathematics requires logical thinking. In all careers that include math, you need to make decisions or present outcomes based solely on the result of calculations rather than intuition or emotion.
Strong Communicators: Most mathematical professions require excellent communication skills. In fields such as business analytics or data science, you often need to present the results of your studies visually in a way that non-experts will be able to understand. Also, despite being sedentary, many numbers-based careers involve working as a member of a team.
Patience: Patience is critical in many math careers. Using math to solve problems and arrive at conclusions is a time-consuming process that may require trial and error, and testing and debugging mathematical models or algorithms.
Preparing for a Career in Numbers
Aspiring mathematicians often need to obtain degrees before they start applying for jobs in their field. Though general math degrees are available at many universities, some careers require specific, specialized undergraduate and graduate degrees that teach the applications for underlying math and other skills. In many professions, you can also gain experience while still studying by undertaking an internship.
Degrees in math, statistics, computer science, accounting, finance, or education at the undergraduate level can help you prepare for a career with numbers.
You may need to go to graduate school to specialize in a field such as data science, statistics or business analytics. If you want to teach math at the high school level, you need to meet teacher licensing and certification requirements for your state.
Scholarships
Math students can take advantage of scholarship offers while they are in college or graduate school. Many scholarships are for specific fields such as data science or statistics.
ACM SIGHPC/Intel Computational & Data Science Fellowship is a $15,000 scholarship for students performing data science research at the graduate level. Intel and Special Interest Group on High-Performance Computing (SIGHPC) offer this scholarship to women or members of a minority group who have completed less than half their studies at an American university. You can apply through ACM SIGHPC.
The Informs Analytics Society offers several scholarships, including the Innovative Applications in Analytics Award for students who propose a unique or creative application of analytics techniques; the Crop Challenge in Analytics Award for students working to solve agricultural challenges through applied data science; and the Women in Operations Research—Bayer Scholarship for female graduate students engaged in operations research or analytics. Each of these awards has its own requirements and application process, which can be accessed through the Informs Analytics Society website.
The Remote DBA Experts to Students Scholarship is for high school or undergraduate students who are successful in math and plan to pursue data science careers. The scholarship is open to students who have a 2.6 cumulative GPA, complete an online application, and submit an application essay.
Internships
Internships may not be a requirement for a job. However, for many entry-level positions, internship experience will give you an advantage over other applicants. This is especially the case in numbers-related jobs and other STEM fields where most applicants will have the same academic qualifications. An internship can help you stand out, especially if you have an in-person or online degree in a competitive field such as data science.
The Capital One Data Science Internship Program is a 10-week internship for students to work on finance-related data science projects. Capital One also offers internships in other numbers fields, such as analytics.
The Duke Clinical Research Institute provides a 17-month Health Data Science Internship . The program is open to Duke students in a graduate program in any quantitative discipline, such as math, statistics, data science, or other numbers- or analytics-related fields.
RTI Summer Data Science Internships offer advanced undergraduates the chance to work on business, public policy, or social services projects. In addition to a technical degree, RTI prefers students with a double major or a minor in a subject such as public policy or social services.
Careers That Involve Math
You can choose from a wide range of math careers. Though all these careers require using math skills regularly, they have very different focuses.
Business Analyst: A business analyst uses quantitative analysis to solve business problems and provide data that decision-makers can use to improve productivity, output or profits.
Data Analyst: Data analysts analyze large data sets using statistical math and other forms of quantitative analysis. Many data analyst positions are entry-level jobs recent graduates use as a stepping-stone for a career in data science.
Data Scientist: A data scientist uses math, statistics and computer science to analyze and organize data and create machine learning programs that can perform a specific task. Data scientists use computer science knowledge, but they also need to be familiar with quantitative analysis and with the industry or area in which they work. Data scientists can work in a diverse range of fields, including health care, business, e-commerce, and even sports analytics.
Statistician: A statistician uses mathematical equations to analyze data and draw conclusions. Statisticians can work in a variety of fields, including public policy, business, finance and health care. Business analysts and data scientists also use statistics in their work.
Accountant: Accountants track spending and income, create financial reports, and ensure that a company or organization complies with rules and regulations. Some accountants focus on bookkeeping and reporting, while others are decision-makers who create budgets and financial policies for their companies.
Teacher: Math teachers provide instruction in math and numbers-related subjects. At primary and secondary levels, these teachers focus on basic math, algebra and trigonometry. In colleges and professional schools, a math teacher can focus on a specific area or specialty, or they can continue to teach fundamental math.
Last updated: September 2020