Networking and Professional Development Resources for Women in STEM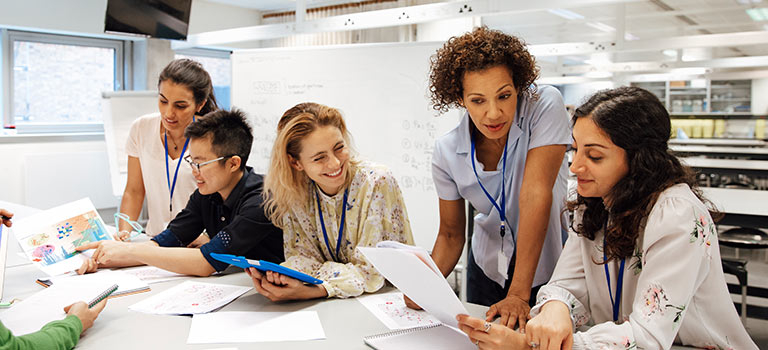 Although women make up half the U.S. workforce, they make up only 27% of STEM (Science, Technology, Engineering and Math) workers, according to the U.S. Census Bureau. The male-dominated STEM industry can often seem intimidating and exclusionary, which produces a myriad of challenges that women in STEM face.
According to the American Association of University Women (AAUW), gender stereotypes and male-dominated STEM cultures can perpetuate gender gaps. From a young age, teachers and parents often view STEM fields as masculine and underestimate girls' competencies in math and science. AAUW also reports that fewer mentors and role models for women, especially women of color, also contribute to their lack of interest in STEM careers. And, women working in STEM can also experience negative stressors such as sexual harassment at the workplace, performance pressure due to being one of the few women on staff and social isolation because men see them as outsiders, according to the American Psychological Association.
Connecting with other women in these careers who have shared experience and challenges can be an important source of support for individuals who choose to enter these careers.
The following organizations for women in STEM, networking events and online communities can offer professional networking and development experience for women at any stage of their STEM career.
Organizations for Women in STEM Careers
Wonder Women Tech: An organization that celebrates women and diversity in STEM through an inclusive community with forums, keynotes and panels.
The WIT Network: An organization dedicated to inspiring, mentoring and networking for women in technology and helping them advance their careers through global and local events as well as leadership programs.
Society of Women Engineers: An organization that advocates for women in engineering and technology and strengthens their career opportunities.
PyLadies: A global mentorship group dedicated to women in tech who use Python that helps them become more active participants in the Python community.
Women's Tech Forum: An organization that provides workplace advancement and builds leadership for women in tech.
Women Who Code: A community that provides coding resources, leadership opportunities and job boards for women in tech and celebrates their achievements.
Women Techmakers: A Google program that provides community and career resources for women in tech careers.
MotherCoders: A tech talent pool that helps women with kids gain or improve their tech skills and provide connections with other mothers in tech.
Professional Events for Women in STEM Careers
Women of Color STEM Digital Conference: A conference for women of color offering networking opportunities and career advancement, as well as mentorship for college students interested in a STEM path.
Girls in Tech: A one-day virtual event dedicated to the community of girls in tech and helping them sharpen their skills.
STEMNoire: A research conference retreat for women in the African diaspora who work in STEM careers.
Women in Data Science (WiDS): A worldwide technical conference featuring women in data science who advocate for and speak up about their work in data science, AI and related fields.
Women Impact Tech: A community for women in tech that seeks to advance equity in the field. Their conference in San Francisco will consist of keynotes, panel discussions and other discussions about tech advancement for women.
Women in Cybersecurity: A three-day technical conference that helps organizations recruit and advance women in cybersecurity.
Black Women Talk Tech: A conference dedicated to supporting and empowering Black women in tech.
AnitaB.org: A series of discussions, events and programs dedicated to including and supporting women and underrepresented minorities in tech.
The Global Women in STEM Leadership Summit: A two-day summit for women in STEM fields that provides career advancement strategies and connections.
Tech Up for Women: A series of conferences and networking webinars dedicated to providing resources, education and tech trends for women in tech.
Lesbians Who Tech: A queer-inclusive conference dedicated to empowering and connecting lesbian women in technology careers.
Write/Speak/Code: An organization that hosts meetup events to promote women in tech and that helps them advance their careers and build upon existing skill sets.
WITI Digital Inclusivity Summit and Hall of Fame: A summit for women in tech to build new skills, foster relationships and create impact. It includes a Hall of Fame where eight female leaders will be honored for their achievements.
Young Women in STEM Conference: A conference dedicated to inspiring and engaging young women in STEM and to those who are interested in connecting with other women STEM professionals to develop and advance their careers.
Women in IT Summit & Awards Series: A series of interactive events around the world dedicated to supporting and including diverse women in tech.
Women of Silicon Valley: A two-day conference that consists of over 80 speakers and 70 sessions for women in tech to connect and share ideas.
Girlstart's Girls in STEM Conference: A conference that allows girls ages 9–13 to participate in workshops led by women in STEM and discover the fun side of STEM careers.
Womxn Level Up: A meetup for women or non-binary people in tech that provides networking and mentorship opportunities.
Black Girls Code: A group that provides educational workshops in coding and a virtual Hack-A-Thon with Nike that explores sports, activism and technology.
League of Women Coders: A recurring meetup event (in New York City and Washington, DC) that meets once a month and offers collaboration on projects and ideas, allows participants to ask technical questions and provides casual five-minute lightning talks about tech.
Online Communities for Women in STEM Careers
Ada's List: An email list for women in tech to connect and collaborate, create an impact in their workplaces and the tech industry, and advance their careers.
Women in Technology Slack Group: A safe and confidential Slack chat for women in tech to support and empower one another.
Systers: An online forum where women working in computing industries can network, share experiences and advice, and collaborate on projects.
Elpha: An online forum for women in tech to have candid conversations about working in STEM, discover career opportunities, ask and offer advice, and make connections with other women in tech.
Femstreet: A free newsletter for women in tech that features women entrepreneurs and investors in tech, news about tech trends and information, and career opportunities in the tech industry.
Wise-Women: A discussion list that addresses skills improvement, networking and other web and tech career-related resources for women computer consultants or web developers.
Tech Ladies: A job board that connects women in tech with jobs and other opportunities in tech.
Women 2.0: A newsletter that features real stories from women in tech, addresses equal pay in the tech industry and offers other resources for women in STEM fields.
Girl Develop It: A program that creates opportunities for women in tech to learn or improve upon software development skills.