Uses of IoT Technology in K-12 Education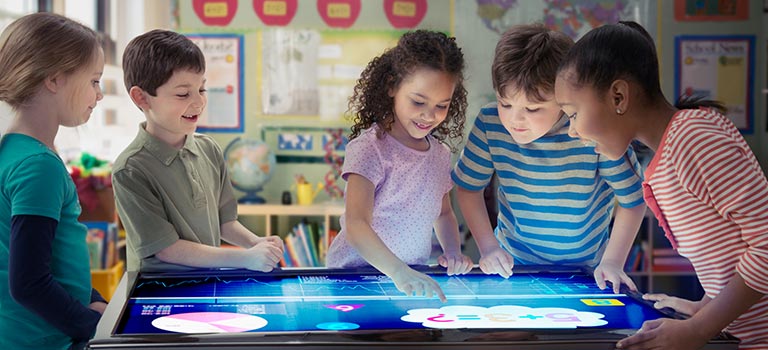 The Internet of Things (IoT) is a new, rapidly growing field of technology that already boasts a robust arsenal of tools with a huge variety of applications. Some of these applications can include educational functions within and beyond the classroom, as we detail below.
While the IoT is, in many ways, still a fledgling branch of the tech world, its numerous academic applications make it a powerful learning tool—as long as educators and students alike are willing to learn and adapt along with the ever-evolving IoT technology.
The Benefits and Risks of IoT Technology in Education
It's easy to get caught up in the incredible potential the IoT can provide in the classroom. However, as is the case with any new technology, it's essential to first understand both the benefits and risks the IoT offers to teachers, students and administrators.
Benefits
The IoT has several important benefits in academia, including:
Communication: One of the clearest benefits is the simple fact that the IoT allows students to communicate with teachers and vice versa. Blackboard, for instance, specializes in transitioning and delivering quality online teaching in an efficient and quick manner. In addition, it enables school administration and staff to stay connected at all times.
Improved monitoring: A vast network of interconnected devices makes it easier than ever for teachers to oversee their students' work. From assigning homework to grading it and providing feedback, the IoT helps keep everyone on the same digital page. Tools like FastBridge can also aid in remote assessment with minimal impact on students.
Mobility: The days of physical limitations in education are gone. The interconnectivity of the IoT has allowed teachers to instruct and students to learn both on- and off-site for years, and new developments, such as long-range Bluetooth technology are furthering the reality of the mobile aspect of "smart school anywhere" every day.
Flexibility: It doesn't matter if you're sending homework to a sick student that stayed home or having parents log in from home to access their child's assignments via the cloud, the IoT provides impressive flexibility within the normal day-to-day procedures of the classroom.
Organization: Gone are the days when homework assignments were lost or left at home. The IoT provides easy access and organization for all digital assignments. Often this comes in the form of apps, such as Memrise or Reading Eggs, both of which maintain progress and allow users to log in from multiple locations, picking up where they left off without skipping a beat.
Conservation: While most benefits are focused on the educational process, some go further. According to Record Nations, the U.S. school system uses 34 billion pieces of paper each year. The sheer quantity of paper, ink, pencils and pens that aren't used up when technology is utilized makes the IoT a significant contributor to the conservation gospel.
Telepresence technology: The young yet promising field of telepresence technologies is another area that is rapidly furthering the use of the IoT in classrooms. For instance, in 2017, Suitable Technologies already had their BeamPro telepresence robot rolling around classrooms, allowing for an asynchronous communication platform that created a more immersive experience for those learning from a distance.
From flexibility to conservation, organization to communication, the IoT already has a plethora of beneficial applications specifically within education.
Risks
Of course, while the benefits are numerous, using the IoT in the classroom also has some inherent risks.
Cybersecurity: From exposing personal information to enabling cyberbullying, there are many well-known cybersecurity risks that come with using the largely vulnerable IoT network. One study conducted by HP found that 70% of the IoT devices tested contained security vulnerabilities. The Department of Homeland Security has even created a Cybersecurity Education Training Assistance Program (CETAP), underscoring the ongoing concerns.
Initial learning curves: The sheer diversity of devices and applications can make tapping into the power of the IoT a bit overwhelming. The challenge for teachers struggling to adapt to new gadgets and then use them with tech-savvy students can be intimidating.
Ongoing learning curves: Once you've set up an IoT initiative in your classroom, it must be maintained. This involves regularly updating technology, taking new cybersecurity measures, and even setting up mandatory tech boot camps to keep your staff up to date.
The costs: Saving money on paper and textbooks is helpful. But buying technology regularly can be prohibitively expensive. Education-focused tablets can cost $100 to $500 or more, requiring thousands of dollars to provide a single classroom with devices, let alone an entire school. While legislation such as the CARES Act provides funding for this shift to IoT in the classroom, when the budget isn't there, it can pose challenges.
Blue light: Many IoT devices involve screens that expose users to blue light. While this is OK in small doses, excessive exposure can be unhealthy and should never fully substitute for physical learning activities.
Access: The IoT is the internet. It's the same internet we've been connecting to for decades, but now it supports more devices than ever. This can pose a challenge when students are expected to access study materials online from home. Many families cannot afford internet connections — as was the case in Sunnyside Unified School District in Tucson, Arizona, leaving students without remote access to the materials and schools scrambling to find ways to connect them.
From health concerns to costs, learning curves, and security, there are plenty of considerations to keep in mind when using the Internet of Things.
Examples of IoT Applications in Education
Here are a few ways that the IoT has been used in the classroom.
While there are many other examples, the potential of the IoT to revolutionize the educational world has only just started.
The Future of IoT Technology in Education
The Internet of Things has a bright future in academia for students and educators. There are emerging opportunities for students to earn advanced degrees in data science and a growing number of careers that leverage data collected through IoT devices. The future promises things such as wearable tech to monitor student engagement or utilizing IoT communication and collaboration to further bridge the digital divide.
However, whether already established or cutting edge, each piece of IoT tech must be integrated into the classroom correctly if it is going to have a significant impact on education.
Best Practices for IoT Integration
When integrating IoT into your school or classroom, it's important to follow best practices to maintain safety and efficiency standards:
Schedule regular maintenaance to keep devices secure and user information safe.
Vet each and every tool you consider using to ensure it will genuinely benefit your classroom.
Remember to account for time students must spend learning each piece of technology in addition to their actual lessons.
Consider how you can scale the use of each piece of IoT (along with the speed and size of your network) to a classroom or school-wide level without causing unnecessary stress or strain to users.
Assign members of your staff to focus on your IoT needs, updating existing tech, researching new tech, and ensuring that safety and efficiency are maintained.
If you can invest in a solid IoT strategy for your organization, you can tap into the incredible, unfolding power of the Internet of Things. By going in with a plan, students and teachers can benefit from the many advantages the IoT offers while avoiding or mitigating the negative aspects of IoT technology.