12 Apps That Support Sustainable Living
To protect the planet and future generations from the effects of climate change and pollution, more people are paying attention to sustainability and the importance of making environmentally conscious choices. Data science and technology are increasingly being leveraged to examine and address the ways people travel, eat, shop and dispose of trash and waste.
What Is Sustainability and Why Does It Matter?
Sustainability—meeting this generation's current needs without compromising the needs of future generations—is based on the core principle that everything people need for their survival and well-being depends, directly or indirectly, on the natural environment, according to the Environmental Protection Agency (EPA).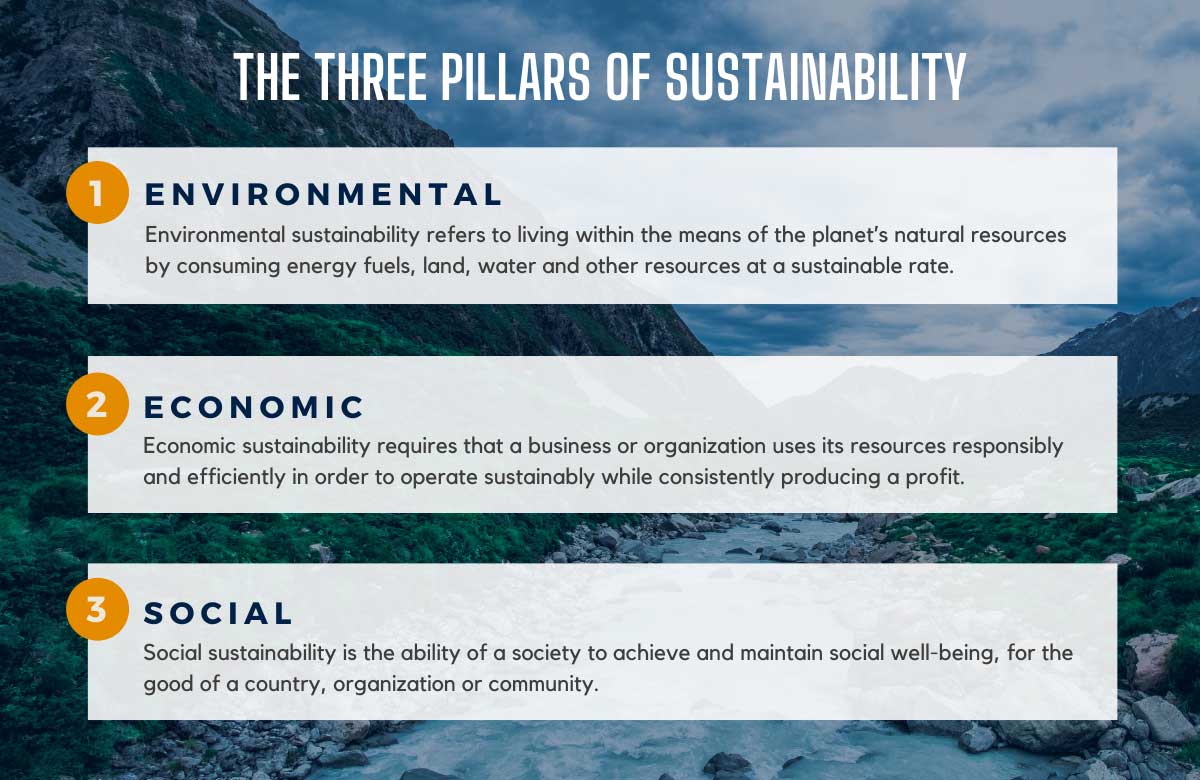 Why is it important to live sustainably? Not only is sustainability good for the planet and for communities, but it may also help businesses become more profitable as corporate sustainability becomes increasingly important to younger generations.
Balancing environmental, economic and social sustainability can help to achieve true sustainability.
The three pillars of sustainability
Environmental sustainability refers to living within the means of the planet's natural resources by consuming energy fuels, land, water and other resources at a sustainable rate.
Economic sustainability requires that a business or organization uses its resources responsibly and efficiently in order to operate sustainably while consistently producing a profit.
Social sustainability is the ability of a society to achieve and maintain social well-being, for the good of a country, organization or community.
How Can Data Science Help Achieve Sustainability?
The combination of societal needs and corporate responsibility programs has generated a need for individuals with backgrounds in environmental sciences—as well as those with training in analytics and data science.
The demand for environmental scientists and specialists is increasing, according to the Bureau of Labor Statistics. Employment is projected to grow 8% from 2020 to 2030, about as fast as the average for all occupations.
Demand for data scientists is growing as well. The 2021 edition of Burtch Works survey of data scientists and analytics professionals noted that "as data-first practices have become a necessary strategy to remain competitive in the age of digital transformation, the data analytics and technology fields continue to experience incredible growth."
The combination of these skill sets can enable people to identify and analyze complex issues and develop solutions for tough challenges—such as protecting our environment.
Jump to an Area of Sustainable Living:
Sustainability in Transportation
Many companies are turning to data science to help them develop, measure and demonstrate to the public and to their shareholders impactful sustainability initiatives. For example, UPS, the world's largest package delivery company, leverages a proprietary tool called ORION (On-road Integrated Optimization and Navigation) that uses advanced algorithms to create optimal routes for delivery drivers. "The cost and time savings and emission reduction based on this optimization alone is extraordinary—UPS expects to reduce delivery miles by 100 million," Forbes magazine reported.
In many U.S. cities and towns, cars are the single greatest polluter.
This optimization that reduces emissions and eliminates unnecessary pollution is significant because the transportation sector is now the largest source of carbon emissions in the United States. In many U.S. cities and towns, cars are the single greatest polluter. According to the EPA, when driving in a car solo, about 4.6 metric tons of carbon dioxide is emitted into the air annually. It's what makes up most of the greenhouse gases, which contribute to climate change. Individuals can make a difference by choosing more sustainable personal transportation, such as public transit, cycling or walking.
In China, there has been widespread adoption of electric buses, which could encourage other countries to follow suit. According to data from McKinsey, these eBuses "eliminate local particulates, including SOx, NOx and CO2, all major issues in most cities today."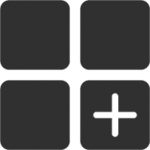 Apps for Sustainable Transportation
Transit: The Transit app was developed with the belief that technology can make sustainable transport easier and more popular. This app gives users multiple transportation options—whether it's public transit like buses or subways, bikesharing or carsharing—along with routes and timelines in more than 200 cities worldwide. While the app is free, some parts of Transit may soon require a paid subscription.
Via: Ridesharing services get cars off the road and make transportation more sustainable, but can be inaccessible for some riders, like those in wheelchairs. Via can be used by riders with disabilities, those who prefer to use cash and those without smartphones. In most cities, it can be accessed by phone or through a web portal.
Bolt Mobility: Sustainability, affordability and bridging gaps in transit services are all considered benefits of "micromobility," which refers to bike- and scooter-sharing. Electric bikes ("e-bikes") boomed during the pandemic and show no signs of slowing. Bolt Mobility, co-founded by Olympic gold-medalist sprinter Usain Bolt, is developing electric mopeds, three-wheeled bikes and minicars. The Bolt There Now app allows riders in partnering cities and college campuses to choose their mobility method, use it and pay for it in the app.
Sustainable Food
Food production as a whole—including food processing, packaging, refrigeration and transport—accounts for around one-quarter of greenhouse gas emissions. While a common recommendation is to "eat local," that often does not fully address the issue.
Data from the largest meta-analysis of global food systems to date, which looked at data across more than 38,000 commercial farms in 119 countries, found huge differences in the greenhouse gas emissions of different foods. Producing a kilogram of beef emits 60 kilograms of greenhouse gases (CO2 equivalents), while peas emit just 1 kilogram per kg. Overall, animal-based foods tend to have a higher carbon footprint than plant-based foods.
Up to 40% of food is wasted in the United States.
In addition, up to 40% of food is wasted in the United States, according to the Agriculture Department (USDA). The USDA has joined with the EPA to set a goal to cut U.S. food waste by 50% by 2030.
EPA's food recovery challenge offers participating organizations access to data management software and technical assistance to help them quantify and improve their sustainable food management practices. Participants report their food waste diversion data and receive an annual climate profile report that translates their data results into greenhouse gas reductions to help participants track and communicate the benefits of their activities.
Businesses that are not ready to make the 50% reduction commitment but are engaged in efforts to reduce food loss and waste in their operations can be recognized for their efforts by joining the food recovery challenge.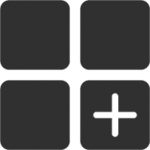 Apps for More Sustainable Food and Dining
Seasonal Food Guide: Locally grown, in-season produce can be tastier and more nutritious. And purchasing food in season from local farms supports the local economy and reduces the environmental impact caused by shipping food thousands of miles. This free app lets users search by state, month and type of produce to find out what's in season near them.
OLIO: This location-based food-sharing app is designed to prevent extra or unwanted food from going to waste. Whether it's a nearby farm getting rid of excess rhubarb, a store looking to give away items nearing their sell-by date rather than throwing them in the trash, or a neighbor wanting to clear out their perishable food before going on vacation, OLIO is a quick and local way to reduce food waste.
HappyCow: Studies have found that beef production contributes to about 90% of environmental problems in the United States, including CO2 and methane emissions, fertilizer and water usage, and nitrogen runoff. Eating less meat has a positive impact on reducing greenhouse gas emissions. The HappyCow app lets users find and review nearby vegan and vegetarian restaurants, discover vegan products and connect with other like-minded people in their area.
Recycling and Waste Management
Every year, 260 million tons of plastic waste is generated around the world, but only 16% gets recycled, according to McKinsey. It can take up to 500 to 1,000 years for plastic to degrade; enough plastic is thrown away each year to circle Earth four times.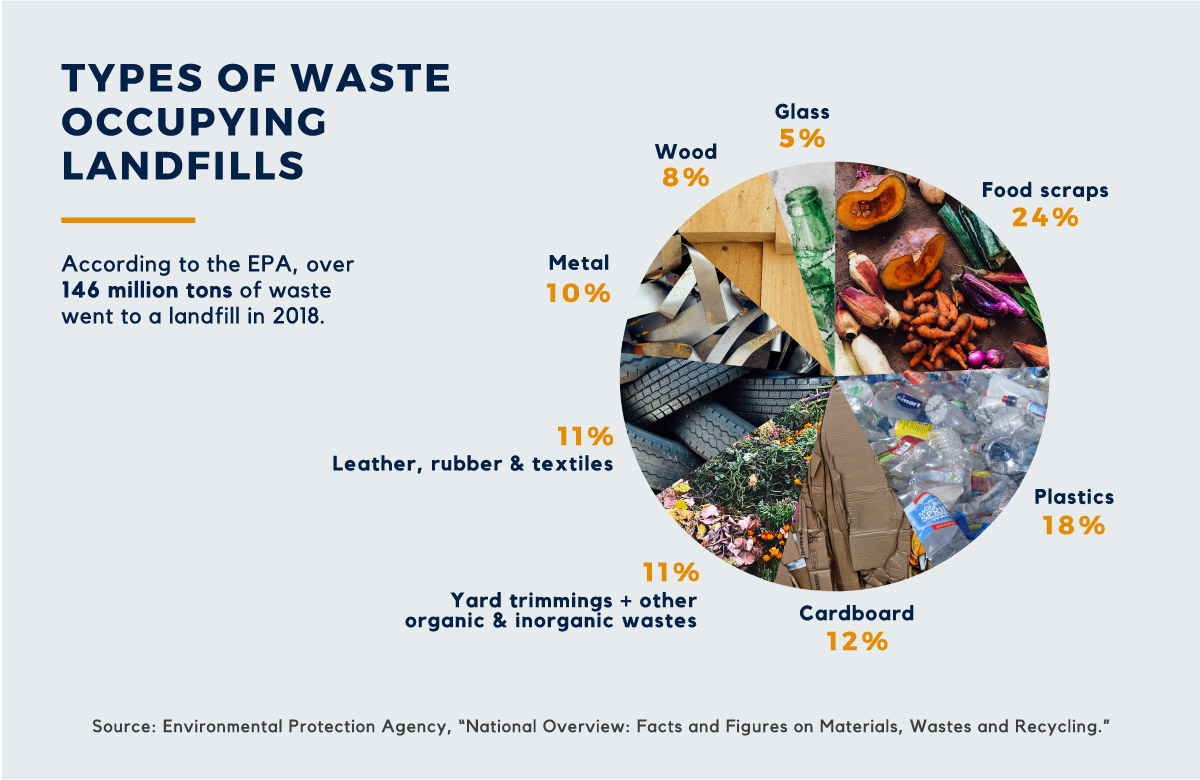 Go to a tabular version of the data to read about the types of waste occupying landfills in 2018.
Forbes reports that as more people and companies seek to reduce what they dispose of and maximize the reuse of materials, "a new industry has emerged that uses software and other technology to advance these goals." One example of a company that's entered the "growing zero-waste field" is Rubicon, which helps businesses and government clients reduce their waste and manage their recycling while also looking for ways to help their customers save money and meet sustainability goals.
"Waste is a design flaw," Rubicon founder and CEO Nate Morris told Forbes. "If you're producing a lot of waste, there is something not functioning efficiently inside your organization. It is really an indicator of a sophisticated business if you have a very lean and efficient recycling operation."
260 million tons of plastic waste is generated around the world yearly. Only 16% gets recycled.
Rubicon uses the application of data and analytics and its software products to get real-time information about clients' waste and recycling in order to identify and incentivize other means of disposal besides sending waste to a landfill. For example, the company has worked with the grocery chain Wegman's to recycle thousands of pounds of granite countertop and repurpose seafood containers and bakery racks.
Individuals can make use of the dozens of local and national apps dedicated to helping consumers with the how, what, when and where of recycling and waste disposal in their communities.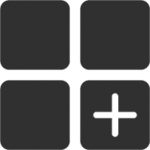 Apps to Assist with Waste and Recycling
iRecycle: This free app was created to provide people with convenient recycling opportunities in their area. The app offers more than 1.6 million ways to recycle approximately 350 materials including often difficult-to-recycle batteries, medications, refrigerators and eyeglasses.
Recycle Coach: Not everything can be recycled. And since recycling programs vary by location, it can be confusing to figure out what should be put into the recycle bin. Poor recycling habits like wish-cycling (tossing non-recyclables in with recyclables) cost communities money and can even shut down recycling programs. The free Recycle Coach app aims to help residents, businesses and local governments recycle correctly with sorting guides, collection schedules and other tools tailored to your municipality.
WasteConnect: This free app from Waste Connections, an industry leader in waste management services throughout the United States and Canada, lets users set up recycling and waste collection reminders and search how to properly dispose of various items, including yard waste, furniture and appliances.
More Sustainable Shopping
The COVID-19 pandemic has changed the way people shop, with more than half of consumers surveyed reporting they now shop online more frequently, according to a 2020 survey by the U.N. trade and development body, UNCTAD. ​​Online shopping can be much less damaging to the environment than traditional retail shopping if it's done the right way.
The main environmental impact of shopping, whether online or in-store, is its carbon footprint, due to emissions from delivery trucks and consumers' cars, Sadegh Shahmohammadi, a sustainable-logistics expert at The Netherlands Organization for Applied Scientific Research, told Wirecutter. He said in the United States, almost 95% of shopping is done by car. So fully loaded trucks delivering 50 packages at once versus 50 separate cars driving to the store results in a significant drop in greenhouse gas emissions. The key is to consolidate online purchases and choose slower but more environmentally friendly shipping options.
Clothes shopping is another area where consumers can prioritize sustainability. Many of the materials used in cheaper, mass-market "fast fashion" are synthetic, meaning they are nonbiodegradable and contribute to greenhouse gas emissions when they end up in a landfill. Clothing made with plant-based fibers, like cotton, coconut and bamboo, is a more sustainable choice. Some companies, such as Allbirds, swaggr and Patagonia, repurpose recyclable materials (plastic, polyester and nylon) into new clothing.
Clothing made with plant-based fibers, like cotton, coconut and bamboo, is a more sustainable choice.
There are opportunities for data science to make a difference in this area, as well. A research project in the United Kingdom is working on developing an AI shopping assistant to help identify ethical and sustainable products in online purchases.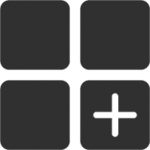 Apps for More Sustainable Shopping
Etsy: An American e-commerce site focusing on handmade and vintage jewelry, clothing, home decor and more, Etsy is the first major online shopping destination to offset 100% of carbon emissions from shipping and packaging by investing in environmental projects, such as protecting forests and sponsoring wind and solar farms that generate clean energy.
Good On You: This Australian-founded company provides sources, ratings and articles on ethical and sustainable fashion companies around the world on their app and website. The company's mission is focused on achieving the U.N.'s sustainable development goal 12: "responsible consumption and production."
thredUp: This online thrift store believes in "shopping with intention, rejecting throwaway fashion culture and standing for sustainability." Consumers can buy or sell used clothing on the website or app. Shopping secondhand displaces the need for new clothing production and diverts items from landfills, and buying just one used item can reduce its carbon footprint by 82%. The company's blog, THR-EDIT, offers sustainability tips and resources, and their fashion footprint calculator allows users to find out whether their closet is contributing to climate change.
Integrating sustainability into daily life is being made easier by technological efforts to promote sustainability. Technology gives people the data and ability to make better choices every day, from how they get to work to what they eat for dinner. Each small step adds up and can make a significant difference in both the local and global environment.
The following section contains tabular data from the graphic in the post.
Types of Waste Occupying Landfills
According to the EPA, over 146 million tons of waste went to a landfill in 2018.
| TYPE OF WASTE | PERCENTAGE |
| --- | --- |
| Food scraps | 24% |
| Plastic | 18% |
| Cardboard | 12% |
| Yard trimmings and other organic and inorganic wastes | 11% |
| Leather, rubber, and textiles | 11% |
| Metal | 10% |
| Wood | 8% |
| Glass | 5% |
Source: Environmental Protection Agency, "National Overview: Facts and Figures on Materials, Wastes and Recycling."